The classical monster, derived from the Latin word

monstrare

(showing, warning), comes into existence as something that is destined to be shown yet will escape its exhibition.
—posted 4 days ago

I went back and wrote it through again, and I think I finally have an opening I'll stick with, for no. 26, don't worry (too much)—there's time, and time. (I tell myself there's time.) —There's time because no. 25, already done, printed, on the shelves, is scheduled to begin here in about three weeks, on September 14th; that means (and here I count off the days on my fingers) no. 26 should be beginning here around about October 19th. —So there's time. There's time. —Of course, then I have to worry about no. 27, but not till then.
Until then; until then. —I've been showing off upcoming covers to patrons; I don't like doing a general cover reveal until I've got the final edited shape of it, and know where the page headers will break and what they'll be, and (as noted) we're not there (yet) with no. 26. But it is the fourth chapbook of the new volume, so a new bouquet is in order for the store, and I can show you the image of what that will look like, which includes a little slice of the as-yet unreleased cover:
(Portland residents may well recognize what it's a picture of.)
Look, while I'm in a revelatory mood: it may help your sense of anticipation, to learn the full suite of chapter titles making up this third volume—so here, a list: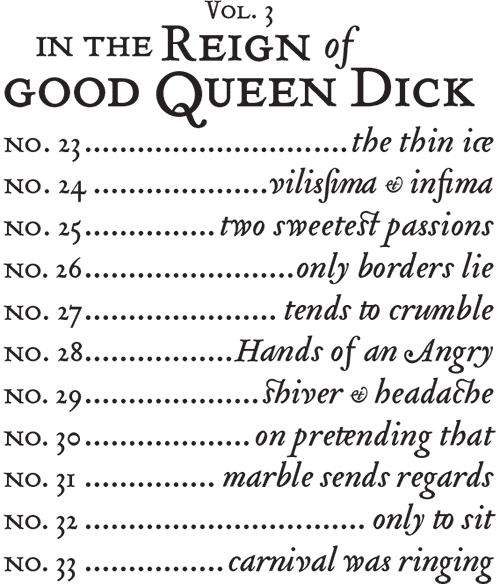 Oh, and also, the reading! —I was loud. So many thanks for Chloe Eudaly, the inimitable proprietress of Reading Frenzy, and also to all the other readers! —I did write up a brief thing about it, but I put it over there; some folks don't like to go so far behind the scenes, and anyway, it's a bit of a part of a recent discussion I've sort of been having, so.
—Three done; a fourth too long in progress; seven more after that. I should maybe get back to it.
—posted 7 days ago

In England today the fashion of shaving is so nearly universal that you may go about for months and years without seeing a natural beard. Between the native beauty of a great beard that never was touched by razor (here I stroked my hand down the soft Assyrian blackness of my own) and the harsh stiff trimmed beards, and these as a rule, too, old men's beards, of today, there is as much difference as between the stately elm and its poor limb-lopped brothers in Kensington Gardens. So that the beard has become, from the chief ornament of manhood, the badge of a doddering age grown too idle to use the razor; and that "bloom of youth," the soft young growth of the beard on a young man's cheek that the Greeks so much delighted in, is, in this country, as extinct as the osprey or the bustard.
—posted 11 days ago

We were sorry to observe, in the preface to this work, certain facts stated in order to display the extreme rapidity with which it was written. An epic poem in 12 books finished in six weeks, and, on its improved plan in 10 books, almost entirely recomposed during the time of printing! Is it possible that a person of classical education have so slight an opinion of (perhaps) the most arduous effort of human invention, as to suffer the fervour and confidence of youth to hurry him in such a manner through a design which may fix the reputation of a whole life? Though it may be that a work seldom gains much by remaining long in the bureau, yet is it respectful to the public to present to it a performance of bulk and pretension, bearing on its head all the unavoidable imperfections of haste? Does an author do justice to himself, by putting it out of his power to correct that which he will certainly in a few years consider as wanting much correction? To run a race with the press, in an epic poem, is an idea so extravagant, that Mr. S. must excuse us if it has extorted from us these animadversions. We now proceed to the work itself.
—posted 12 days ago

I'll be reading at Reading Frenzy this Thursday, August 20th, as part of the semi-occasional Print Fancy! series of 'zine release parties. Up alongside me will be—
I am reliably informed there will be slideshows, audience participation, a door-prize, and also refreshments. —I'll be reading from no. 25, " – two sweetest passions – ", though the excerpt in question has little enough to do with either of those. (—Unless, of course, you highly esteem gentrification, and revenge…)
—posted 17 days ago

The novel, through its protean variations from Proust to the detective story, is almost always analytic: it would be truer perhaps to say that it nearly always employs analytic processes from time to time. But the saga is never analytic. The novelist is often introspective: the saga never.
—posted 20 days ago

Cities attract both those down on their luck and looking for work, and those on a hot streak, looking to celebrate. They attracted the naïve urban planners of the early 20th century who believed a more symmetrical city grid could undo poverty, and at the same time they attracted those who aimed to exploit the poor and disenfranchised through predatory housing schemes. For every art gallery there is an underserved community. For every park, a shelter barely able to serve the people it was built to protect. The truth is that cities offer us a promise that is not always kept. But the promise is vital.
—posted 24 days ago

A brief update, as I toil away on no. 26; I'll be at the Portland Zine Symposium this weekend, with books and badges and chapbooks and a six-year-old who'll have some prints, if you like.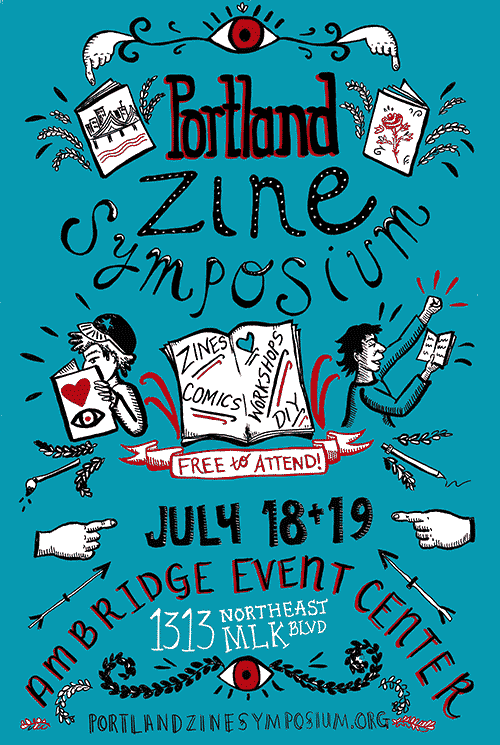 Fifteenth annual, huh? —Dang, I've been going to these for a while.
And also, here's what it looks like when I'm assembling Patreon packages:
There's still some work to do to live up to the most recently met goal—getting the site mobile-ready—but there's also all this writing I need to do? —Anyway. Events as warranted by further bulletins. —Oh! And no. 24's coming up. How's July 27th for you? Good?
—posted 50 days ago

(We begin with the ritual disclaimer: I am no good at self-promotion. This is how we apologize, for taking up your time: to do something often is to become good, or at least adept at it; that we are no good at it must therefore mean we do not do it often; that we do not do it often means please, understand, we are making what is for us an effort; that we are making, for you, this effort, might just predispose you toward us? Perhaps? —I am no good at self-promotion, QED.)
In just three weeks' time, the next season of stories will begin, as no. 23, " – the thin ice – ", premières. I'll be celebrating with not one, but two public readings:
Thursday, June 18th, 7 PM at the Spritely Bean;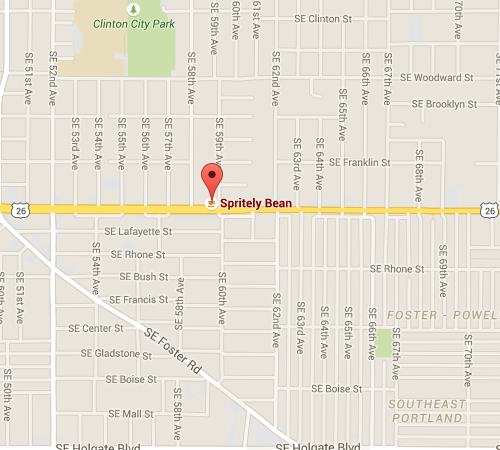 Wednesday, June 24th, 7 PM at Reading Frenzy.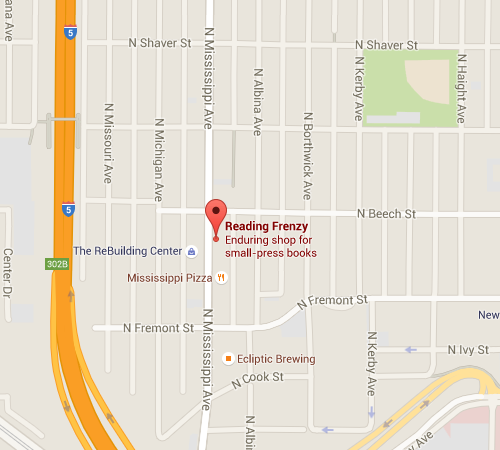 And while the format will be much the same—a reading, a bit of signing, old books and new zines available, and badges handed out freely—the content will be different: some old, some new, a bit perhaps not entirely finished, but no repeats, guaranteed. Come to both. You know you want to.
Meanwhile, I'm editing no. 25, and writing no. 26. Patrons have had a chance to see the full set of chapter titles for In the Reign of Good Queen Dick; they've also gotten to see the covers of nos. 25, 26, and just now, 27. —Which reminds me. I need to figure out what 28 should be.
While I'm about all that, do forgive me this spot of self-promotion, if you might. I'm no good at it, you see. No good at all.
—posted 93 days ago

INTERVIEWER

Epic literature has always interested you very much, hasn't it?

BORGES

Always, yes. For example, there are many people who go to the cinema and cry. That has always happened: It has happened to me also. But I have never cried over sob stuff, or the pathetic episodes. But, for example, when I saw the first gangster films of Joseph von Sternberg, I remember that when there was anything epic about them—I mean Chicago gangsters dying bravely—well, I felt that my eyes were full of tears. I have felt epic poetry far more than lyric or elegy. I always felt that. Now that may be, perhaps, because I come from military stock. My grandfather, Colonel Francisco Borges Lafinur, fought in the border warfare with the Indians, and he died in a revolution; my great-grandfather, Colonel Suárez, led a Peruvian cavalry charge in one of the last great battles against the Spaniards; another great-great-uncle of mine led the vanguard of San Martin's army—that kind of thing. And I had, well, one of my great-great-grandmothers was a sister of Rosas—I'm not especially proud of that relationship because I think of Rosas as being a kind of Perón in his day; but still all those things link me with Argentine history and also with the idea of a man's having to be brave, no?

INTERVIEWER

But the characters you pick as your epic heroes—the gangster, for example—are not usually thought of as epic, are they? Yet you seem to find the epic there?

BORGES

I think there is a kind of, perhaps, of low epic in him—no?
—an interview with Jorge Luis Borges
—posted 104 days ago